When:
16 September, 2021 @ 8:00 pm
2021-09-16T20:00:00+12:00
2021-09-16T20:15:00+12:00
Where:
OSPA Theatre
Hall Road
Onewhero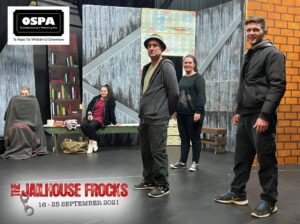 THE JAILHOUSE FROCKS
COMING TO OSPA 16 – 25 SEPTEMBER 2021
Dim-witted officer Dwayne's tranquil evening at the Birchwood County Police Station is shattered with the arrest of three unlikely women; the Mayor's wife, the local mad cat-lady, and a dangerous looking New Yorker. The already chaotic situation descends into mayhem with the arrival of a New York gangster, disguised as a FBI agent, hell-bent on exacting revenge on his wife. By the end of the night, the ladies have formed a gang, sung some songs, escaped from jail and locked the gangster up in their place, leaving Officer Dwayne wondering how on earth he managed to make the arrest of a lifetime.