last updated 14th March 2022
Managing COVID-19 can be a challenge and understanding the latest information can be overwhelming. If you are in need of support, reach out to friends and neighbours, or on the local community facebook pages.
There are more support services listed here
Caring for your child with COVID-19
Latest news
All the latest government advice can be found at covid19.govt.nz
COVID-19 and Our Community
There's no sugar-coating it … Omicron is rampant throughout New Zealand, especially in the Counties-Manukau area. We are currently in Phase 3 of the government's response to Omicron, where our health system is becoming challenged and the focus is on safely managing COVID-19 at home.
Consider making preparations to deal with COVID in your home, and keep your whaanau safe. Here are some tips, tricks and resources, collated by those in the community who have had experience of COVID-19 in their home. If you have advice or information that you feel will benefit our community, please send it to [email protected] for consideration.
Preparing for COVID-19
Consider planning ahead now, in case your household is affected. Talk to your family, friends and neighbours about caring for your animals if you're not able to. They could also help with contactless delivery of groceries and other supplies as needed.
We recommend stocking up on supplies which will help in the care of your whaanau while isolating at home for an extended period. Useful items include:
Panadol
Ibuprofen
Throat lozenges
At least a two-week supply of any prescription medication
A spacer, if any of your whaanau uses an inhaler
Tissues
Hand sanitiser
Sanitising spray or cleaning wipes
Personal hygiene items
Toilet paper
At least a week's supply of pet food (if applicable)
A supply of foods that you prefer to eat when you're sick, e.g. bananas, ice blocks, soup, eggs, bread (toast), lemon-honey drinks, yoghurt, canned fruit, rice risotto, crackers, cheese, hummus etc.
Dealing with COVID-19
Ask for help. If you find yourself in a COVID pickle, ask your neighbours, friends, family and community for support. They can arrange delivery of any supplies you need, and assist with critical property/farm tasks that need to be taken care of.
To help prevent the spread of the virus within your household:
Open windows and doors where possible to maintain good ventilation
Maintain physical distancing
Cough into the crook of your arm
Wash/sanitise your hands frequently
If possible, the poorly member(s) of your household should use a separate toilet and bathroom. If not, discreetly wipe down surfaces they've touched after use.
Get tested if you have COVID-19 symptoms
Contact businesses you expect to visit your property and let them know you have a positive COVID case in your household. Many businesses will have protocols in place to provide a contactless service, where possible.
If you know of a family that is in need of assistance and is not connecting with the community (new to the area, no internet access etc.), please email [email protected] with more information. There are many community groups who can help, discreetly if required.
Caring for your child with COVID-19
This link is for a video from Starship with advice about Covid-19 in children.
When to call for help
You should call for help if your child gets much more unwell. Call your local healthcare team, or Healthline on 0800 358 5453 for advice if:
– they are breathing fast or hard
– their fever lasts for 5+ days
– they have severe chest or tummy pain
– their headache is not going away with painkillers.
Call 111 if they:- have a sudden change in breathing (e.g. they can't talk, are having irregular or fast breaths, or are struggling to breathe)
– have bad chest pain
– turn blue or pass out
Isolation Guide
Household Contacts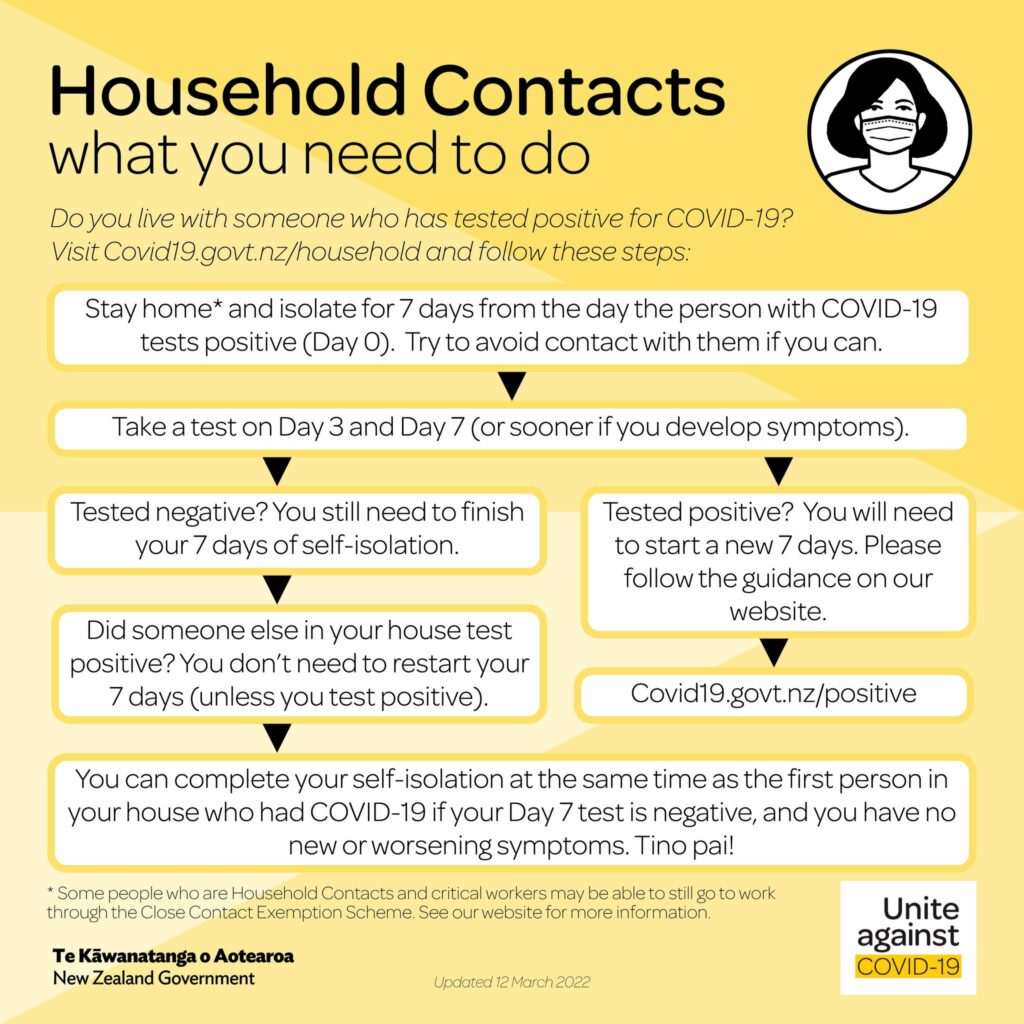 Are You a Covid Contact?
A useful guide to navigate your covid contact status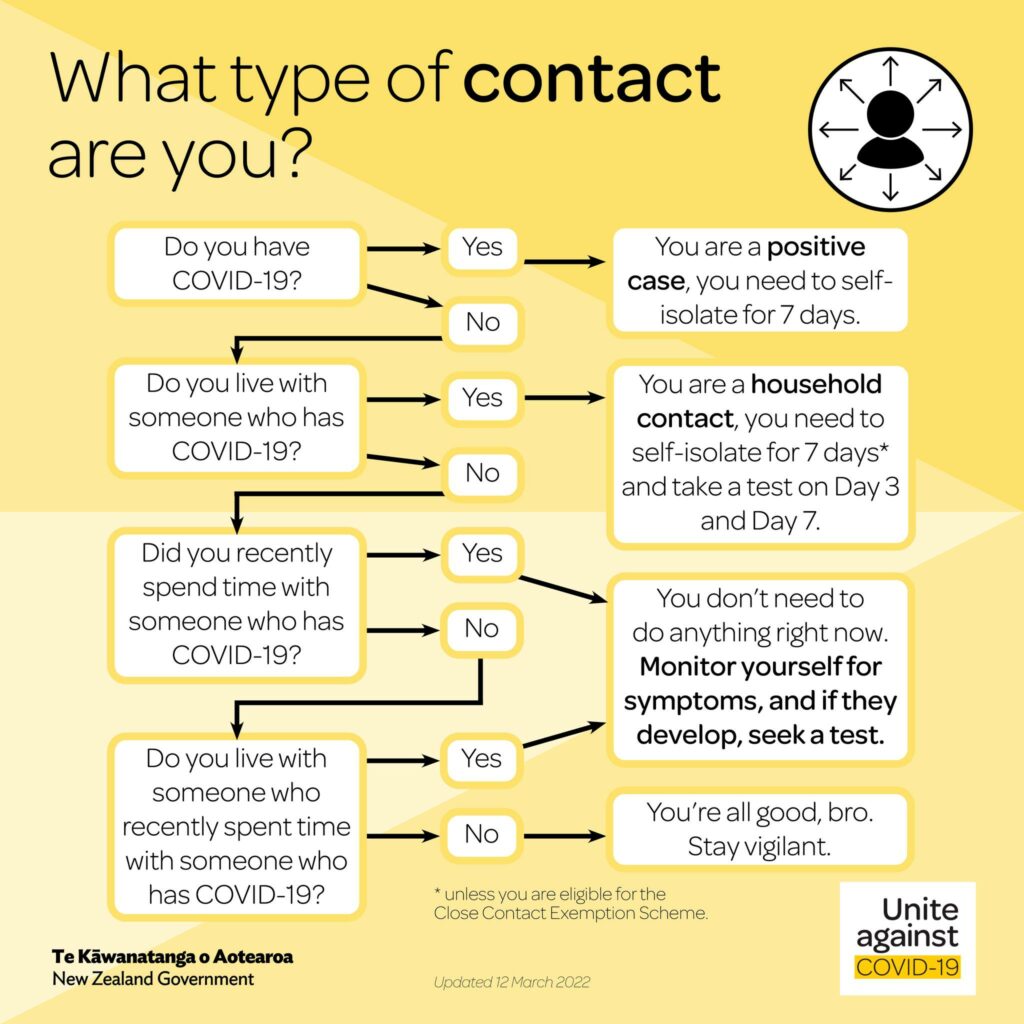 Testing
Rapid antigen tests (RATs) are the main testing method being used for people with COVID-19 symptoms, or those who are a Household Contact. Results take about 20 minutes.
RATs are free if you have COVID-19 symptoms, or you are a Household Contact (living with someone who has COVID-19). You will also be able to purchase these at retailers – including supermarkets.
You can get a free RAT by:
visiting a community testing centre. Find one near you here: www.healthpoint.co.nz/covid-19
ordering online or over the phone. RATs can be requested on behalf of someone else. You will need access to a mobile phone to validate your order. Go https://requestrats.covid19.health.nz or call 0800 222 478, choose option 3 (8am-8pm, 7 days a week).
RATs need to be picked from a collection site near you – someone else can collect on your behalf.
Recovery and Long Covid
It's really important that people who have had COVID-19 take the time to recover properly. Being ill with COVID-19 can cause your muscles to become weaker. Exercise is important for regaining your muscle strength, but this needs to be safely managed alongside other COVID-19 symptoms. Health Navigator features useful information about returning to physical activity and exercise after COVID-19.
Long COVID is very real and also in our community. Generally, long COVID is where symptoms continue to persist or develop a month after the initial infection. Symptom severity can range from mild to disabling, and multiple body systems can be affected. Some people may have a period of being symptom-free before relapsing. Relapses may occur in an irregular pattern or in response to specific triggers, such as physical or mental activity or stress. Health professionals are still learning about the effects of long COVID. You can learn more at https://www.health.govt.nz/covid-19-novel-coronavirus/covid-19-health-advice-public/about-covid-19/long-covid
Important Phone Numbers
Reach out and talk to someone if you need to.
Emergencies dial 111
COVID‑19 Healthline 0800 358 5453
Healthline 0800 611 116
Rural Support Trust 0800 787 254 (confidential support for farmers, for Waikato-Hauraki-Coromandel, select option 1, then option 2)
Free call or text 1737 to speak to a trained counsellor 24 hours a day, 7 days a week
Youthline 0800 376 633 or free text 234 or email

[email protected]

or online chat
What's Up 0800 942 8787 (for 5–18 year olds). Phone counselling is available every day of the week, 365 days of the year, 11.00am–11.00pm. Online chat is available from 11.00am–10:30pm 7 days a week, including all public holidays.
Lifeline 0800 543 354 or free text 4357 (HELP)
Samaritans 0800 726 666